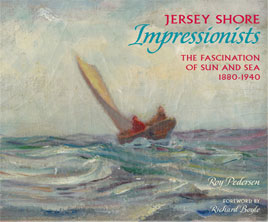 Jersey Shore Impressionists:
The Fascination of Sun and Sea - 1880-1940


Roy Pedersen
Water and light have seduced artists through the years, and the quality of these elements at the New Jersey Shore continues to attract artists to this day. Between the late 1800s and 1940 inspired painters were drawn to this coastline; the passionate work they created stands as an important, but unsung, chapter of American Impressionism. Much of that work is celebrated here, establishing the important contribution of the Jersey Shore Impressionists to both American art and New Jersey's cultural heritage.

Spring, 2013
ISBN 978-159-322-0730
$36